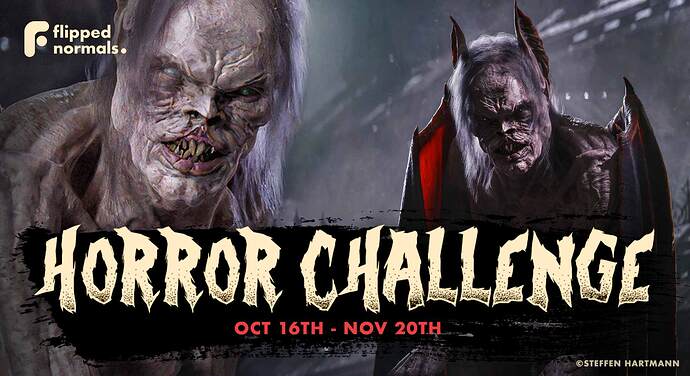 When does the challenge end?
Challenge Countdown:
Due to a mistake on our end, there were issues with the countdown timer.
Because of that, we're extending the challenge by an additional 2 days and the final deadline will now be Wednesday, November 22 at 11.59 pm UTC
This is the Final Submissions thread for our Horror Challenge.
You will only be allowed 1 submission in this thread. When you feel like you've pushed yourself as far as you can and there's nothing else to do, post it here.
If you're unsure about the rules, check out our Rule Thread
Final Submission
1 final render of your character - 1,920px+ on the longest edge.
Front, side and back views of your character - 1,920px+ on the longest edge.
Wireframe shots and a texture overview + any additional renders you wish to include
A minimum of 3 Work in progress images to show your journey from start to finish
(Optional) Include the final character in an online viewer, such as Sketchfab or Marmoset Viewer.
We're really excited to see what you come up with for your final entry


Good luck!