EDIT (5/12)
Adding a recent WIP render, so this thread's image isn't my not-so-good quick-concept drawing xD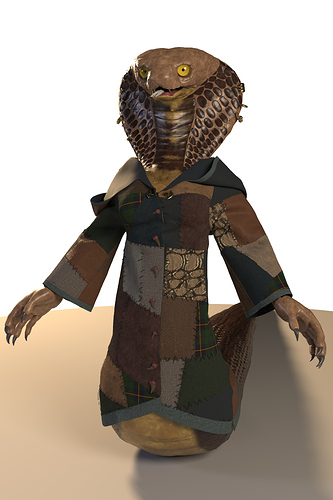 To start with, the concept for this character is NOT mine - she was created by Chris Zito (https://twitter.com/CzBacklash) as an NPC for a Dungeons & Dragons campaign ran by Team Four Star.
While I have drawn on some of the various fan-art for inspiration, as well as her official portrait, she is described largely as looking like an Indian Black Cobra with arms, dressed in a set of patchwork robes/cloak, with numerous piercings and gold studs along her hood. She is a Warlock in the D&D tradition, a magic user who draws their power from an otherworldy creature–a giant fire/earth elemental serpent called 'The Collective One'
I've only been able to work on this for an hour or two per day, but for less than a week of sculpting I'm pleased with the progress so far.
First I made a quick sketch how I'd like the final image to be laid out. Its rough, but gives me something to aim for.