Real-Time Game Character
6 March 2020 - 20 May 2020 This challenge has ended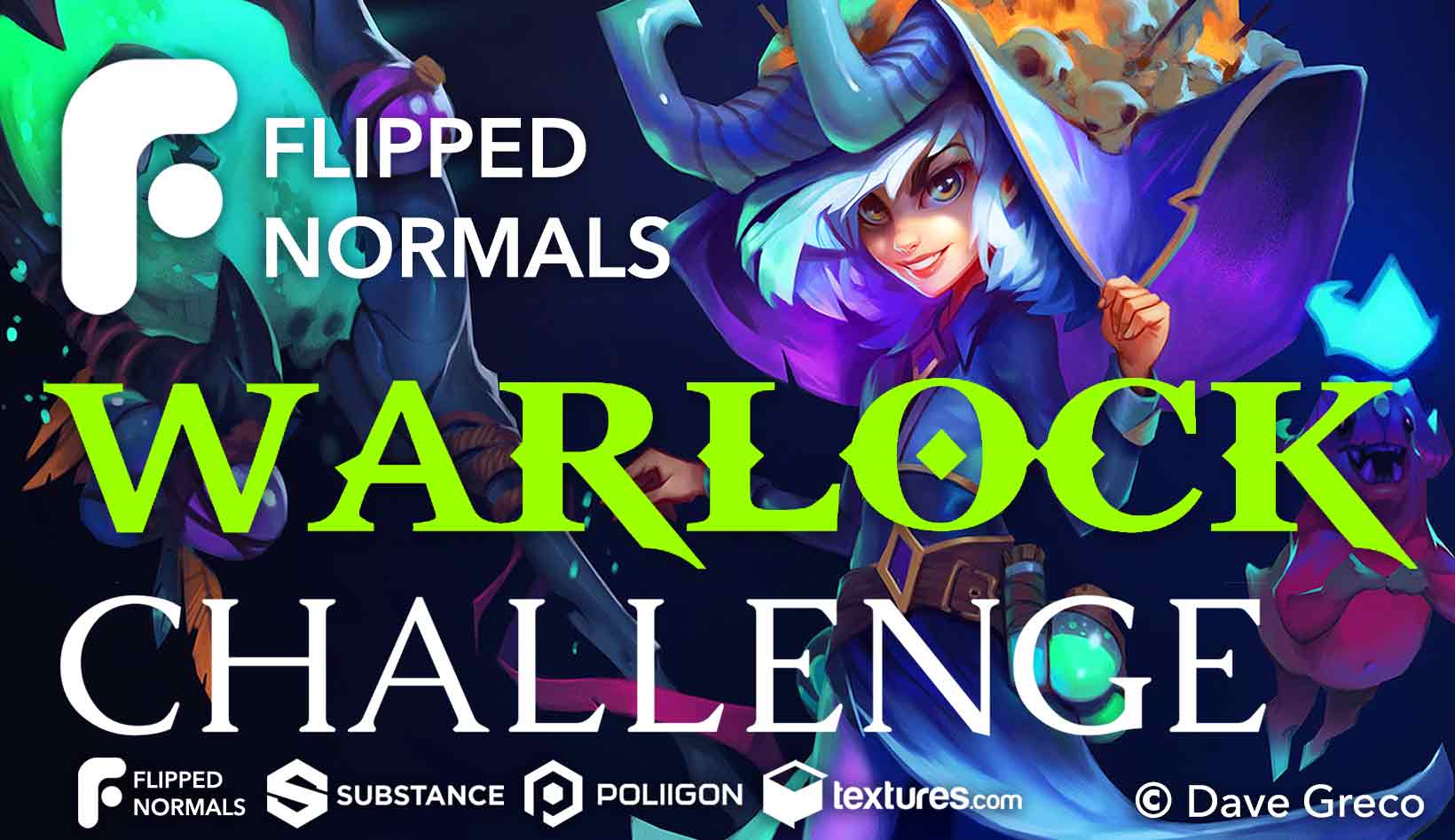 We're proud to present the FlippedNormals Warlock Challenge!
This is a challenge where you can let your imagination run wild. We're huge fans of fantasy, and with this theme there's plenty of opportunity to explore different kinds of characters and environments.
Traditionally a warlock is restricted to a male witch. However, we want to encourage you to explore this concept further. You're not necessarily beholden to gender or even dark fantasy. If you think you can put a modern spin on this trope by mixing it with horror or even sci-fi, have at it!
Real-Time Game Character Brief
Create 1 real-time 3D character with no paintovers. The character has to be rendered in a real-time engine such as Unity, Marmoset Toolbag, UE4 etc. and with a max poly/tri-count of 100K - along with front, side, back views, as well as wireframes.
You will also need to show the final textures created for your character.
You're allowed to use two 4K map sets that include standard maps like albedo, spec, roughness, emissive etc.
While you can't do any paintovers on your character, you are allowed to do final grading. Adding background and foreground elements such as dust, sparks or anything else that adds to your presentation, have to be present in the final 3D scene on planes. These count towards your final polycount as well.
Final Submission
1 final shot of your character in a real-time viewer/engine - 1,920px+ on the longest edge.
Front, side and back views of your character in a real-time viewer/engine - 1,920px+ on the longest edge.
Wireframe shots and a texture overview + any additional shots you wish to include
(Optional) Include the final character in an online viewer for us to inspect
(Optional) Work in progress images to show your journey from start to finish
Judging Criteria
Your work will be judged based on a number of different criteria: The technical execution, the final aesthetics of the image - as well as your own creative flair. Are you able to tell a story with your character? Does it evoke emotion? Think about the presentation, as well as the back story of the piece - and other defining characteristics you can display through the finished character.
The theme lends itself to something over the top, flashy and colorful! Take advantage of this and create something memorable.
Feedback
We love to see the community thrive and grow and we highly encourage commenting on other people's work - giving feedback and constantly pushing each other to become better artists. We know it takes time and everything helps.
Prizes

1st Place: ($1,400)

2nd Place: ($450)

3rd Place: ($275)
RULES
Deadline
The deadline for the Warlock Real-Time Game Character category entries is Wednesday May 20th, 2020 15:00 UTC
Winners Announcement
The winners will be announced Wednesday May 27th, 2020.
Work In Progress
You'll HAVE to keep an active thread of your progress with at least 3 WIP along with your final submission.
Title your thread ' [Warlock Challenge] – [PROJECT NAME] '
FAQ:
If you use a basemesh, it needs to be generic – nothing which looks like the final design.
The entry must be made specifically for this challenge.
You can only make one submission per challenge.
All entries are for individual artists only and the submission has to be done by yourself – no collaborations allowed.
Feel free to post your progress on social media and make sure to tag FlippedNormals and use the hashtag

#fnartchallenge

Color grading and other standard compositing practices are allowed. However, as with the above, they're not allowed to fundamentally change what you've done in 3D.
You're allowed to use designs created by someone else, but remember to always get permission.
The prize amount listed is the combined value of what you can win. There are no cash prizes included on top. I.e. the 1st place winner will win the prizes listed above, and they are worth a combined value of $1,400.
Good luck to everyone!