3 different Christmas themes from different universes
20 November 2019 - 13 January 2020
This challenge has ended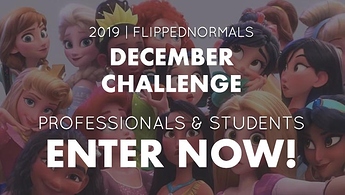 THEMES!
Christmas at Disney
Tolkien's Christmas
Christmas with H.R Giger
Create 3D characters, props or environments related to the themes – winners will be announced on 15 January.
PRIZES!

1st Prize
Five Official FlippedNormals Products of your choice.

2nd Prize
Three Official FlippedNormals Products of your choice.

3rd Prize
One Official FlippedNormals Product of your choice.
The Prizes will have to be selected from This Page – and does not include bundles.
IMPORTANT!
Title your thread ' [THEME] – [PROJECT NAME] '
You'll HAVE to keep an active thread of your progress with at least 3 WIP along with your final submission.
Final delivery can be in whichever form you feel represents your work the best – and which can be viewed online.
When you're ready to submit, simply tag the first post in your thread with the suggested tag 'complete'.
RULES!
If you use a basemesh, it needs to be generic – nothing which looks like the final design.
The entry must be made specifically for this challenge.
You can only make one submission per challenge.
All entries are for single artists and the submission has to be done by yourself – no collaborations allowed.
We encourage you to post your progress on the FlippedNormals Discord.
Feel free to post your progress on social media and make sure to tag FlippedNormals and use the hashtag

#fnartchallenge
Good luck to everyone!