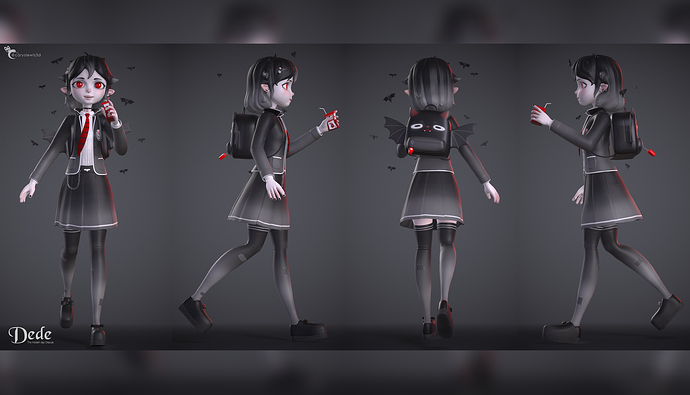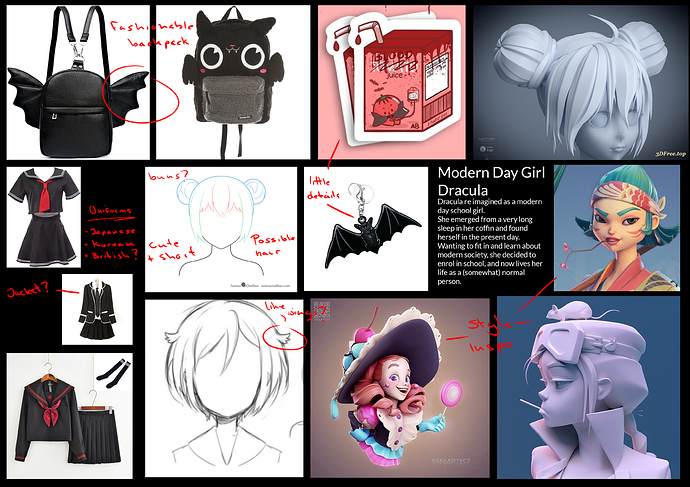 Hello!
First time doing one of these challenges, and I'm a little late to the game but very excited to get started, especially with this really fun brief.
I really wanted to do a modern day gender swapped version of a very well known character, Dracula, but with a twist. Drac has finally awoken after having a bit of a lie in (roughly 200 years…) and has found herself in the modern day. Wanting to fit in and learn about modern society, she enrols herself in high school and is now living as a (somewhat) normal person.
I have a lot of cute and fun ideas for this sculpt, like a backpack with bat wings, a little bat keyring, a plasma juice box etc. I think the most challenging thing will be conveying that its Dracula and not just a generic vampire, so I'd like to incorporate little personalised "Drac" items to make sure I get my point across.
I've made a bit of a mood board to dump some ideas on (enjoy my terrible handwriting) which includes some of my style inspiration for this project. This will definitely be a stylised character, so I'm taking a lot of inspo from my fave artists like Yulia Sokolova, Paul Deasy, Stephen Anderson, and Shane Olson.
I'm really excited to get started, and hopefully make a nice portfolio piece!