Hi, for this challenge I decided to work on a more "mature" version of Peter Pan where he finaly growned up to a teenager.
My 2D concept is not pretty good but it helped find this whole teenager/ Bad guy style and tone. I jumped into sculpting right after to find better shapes. It's the very first time I do that whole process.
The story behind the Peter Pan's shadow made me want to try something maybe with some decals at the last step into Unreal Engine. We'll see. We could even imagine some gameplay with it. I don't know.
I'll add updates everyday I work on it. Give me criticisms, let me know what you think about it and good luck everyone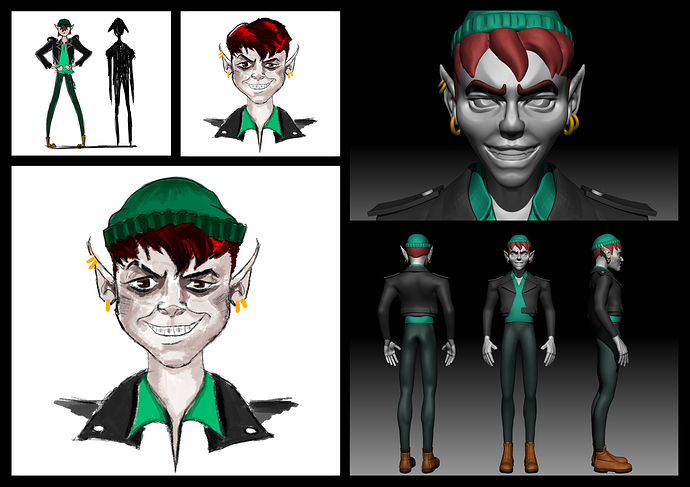 Didn't made really huge changes today, I found that it's hard for me sculpt and think about the design in the same time. Plus my character seems to be pretty simple… and that's not a bad thing, I think, but yeah no armor or creazy stuff. I need to think about refining all the little details and focus on the emotions of that Peter Pan.
Today I mainly focused on legs, added some life to the pant, also refined the silhouette. I'm thinking about adding some more accessories to give more background to the character.
I love working on this character, I'm just pretty slow here

Let's sleep on it and see what kind of twist I could do with this Bad Boy Teenager Peter Pan

Also, next time I should post my references/ inspirations.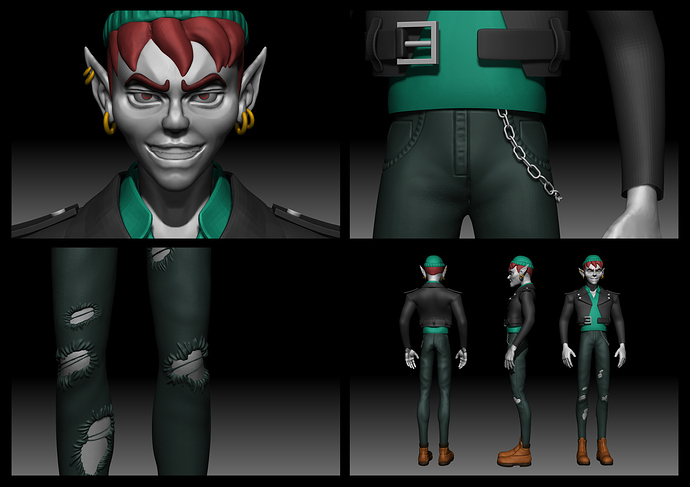 Here are my inspirations and references. I was a lot inspired by the vision I had of teenagers when I was a kid

so I wanted my Peter Pan to live in a world and a general ambience similar to what we can see in The Covenant with this kind of general rock'n'roll and dark overall aspect. The Jesus Of Surburbia's character from Green Day's clip was a good starting point too.
When I thought about his face and his mentality I instantly thought about the Outsider from Dishonored who was this kind of character that could come out from his world and appear wherever he want in the humans's world. I see Peter Pan as a semi-god that's in between reality and another world.
Then for the silhouette I wanted something pretty cartoon, thin legs, cartoonish face that made me think about Gorillaz's drawings and a little bit of angry/sadistic face from Bleach that tells us that this Peter Pan is a spooky and turbulent teenager.
This challenge is interesting for me because it forces me to see where my ideas are coming from and maybe what is my style (for now, 'cause I'm pretty new to character design and I know that at my current level things change pretty fast). So yeah, cool