Hiya everyone!
Day One of the Fairy-Tale Reimagined Challenge starts with breaking down the concept to build an asset list. This created a budget for each asset and where it would be allocated for the 2x 4k maps. I also researched into the different types of materials I would have to include to create this character which will continue as the process carries forward.
I hope you enjoy this development for the Character and I'm open to name suggestions (the best I have is Jafara xD), really looking forward to seeing everyone else's characters too! Good luck everyone!!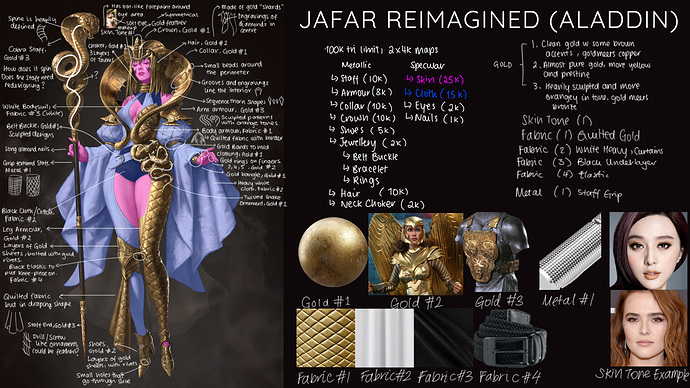 Concept and Inspiration
While completing research about this project, I was fascinated to find out that the original story of Aladdin and the Magic Lamp was set in China. I wanted to create a character that represented the villains of the Fairy-Tales as they are just as important to the story as the hero! Due to the time constraints and university modules, I've decided to choose a concept that I found on ArtStation by the extremely talented Dai Nak which is available here: https://www.artstation.com/artwork/v1QPaD This immediately brought Jafar to mind and I thought it would be brilliant to portray a powerful sorcerer as a woman.

A Little About Me:
I'm Jess (She/Her) and I'm a second year student at Birmingham City University studying Games Art. This is also my final year (ahhh!), but it also means that my Final Project is coming up which means that I don't have as much time to spend on this character as I would've liked to, so I've decided to use a concept instead of creating my own.
I come from a background of 2D character illustrations, in fact this is only my 3rd 3D Character so I'm very much looking forward to the challenge. If you have any feedback or would like to chat with me, just drop a message!

Links:

https://www.linkedin.com/in/jehsieeart/
https://twitter.com/jehsieeart