Starting a bit late oops! Its my first time trying a Flipped Normals challenge, so I'm hoping I can finish in time with a result I'm happy with, we'll see how I go!

We'll fly through the process I hope.
The character I chose to adapt was the witch from the Hansel and Gretel fairy-tale, the one who lives in a house of sweets. I was flipping between this one and Thumbelina, but I thought that choosing the witch would give more variety, and maybe a lot of colour.
Reference Sheet:

As I was collecting ref the character changed in my head from a passive NPC to a somewhat chaotic neutral "Willy Wonka" -esque person. So I really want to lean into the eccentric old woman, and give her lots of bright colours while still sticking with a fantasy clothing type.
First Concept Sketch: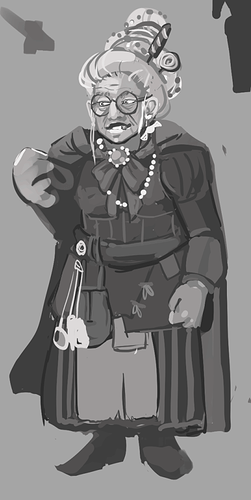 [EDIT: current progress]